Lego Marvel Iron Man Hall of Armor
3Recommended for ages 7 and up
Material: Plastic
Includes 6 Marvel Universe minifigures: Iron Man MK 1, Iron Man MK 5, Iron Man MK 41, Iron Man MK 50 and 2 Outriders.
This superhero playset also includes an Igor Suit mech, featuring an opening mini figure cockpit and posable arms and legs, and a posable robot on wheels for imaginative play.
Iron Man lab includes: a rotating podium with 2 posable robotic arms; desk with translucent-blue screen, minifigure chair and cup elements; kitchen module with a buildable smoothie maker and cup element; weapon storage module with a stud shooter, power-up jetpack and energy beam element for the minifigures; tool storage module with a wrench; modules to store Iron Man suits; radar dish; safety barrier elements; fire extinguisher and 2 flame elements.
This buildable superhero toy features an Iron Man lab with detachable modules that can be combined and stacked in many different ways to create alternative play experiences.
Iron Man lab measures approximately L6 x W13 x H5 inch
Igor Suit measures approximately L1 x W3 x H3
Lego Marvel Iron Man Hall of Armor
Conduct experiments with Tony Stark and capture the Outriders with the LEGO® Marvel Avengers 76125 Iron Man Hall of Armor, featuring a modular lab that can be combined and stacked in many different ways for endless play possibilities. The hall includes a rotating podium with 2 posable robotic arms for Tony Stark to get suited up as Iron Man, a desk, kitchen, weapon storage, tool storage and Iron Man suit storage modules, a radar dish and more. This versatile Iron Man construction toy includes a posable Igor Suit mech with minifigure cockpit, a posable mobile robot and 6 minifigures—including Iron Man MK 1, Iron Man MK 5, Iron Man MK 41 and Iron Man MK 50, plus Tony Stark face and hair elements to attach to your chosen Iron Man minifigure.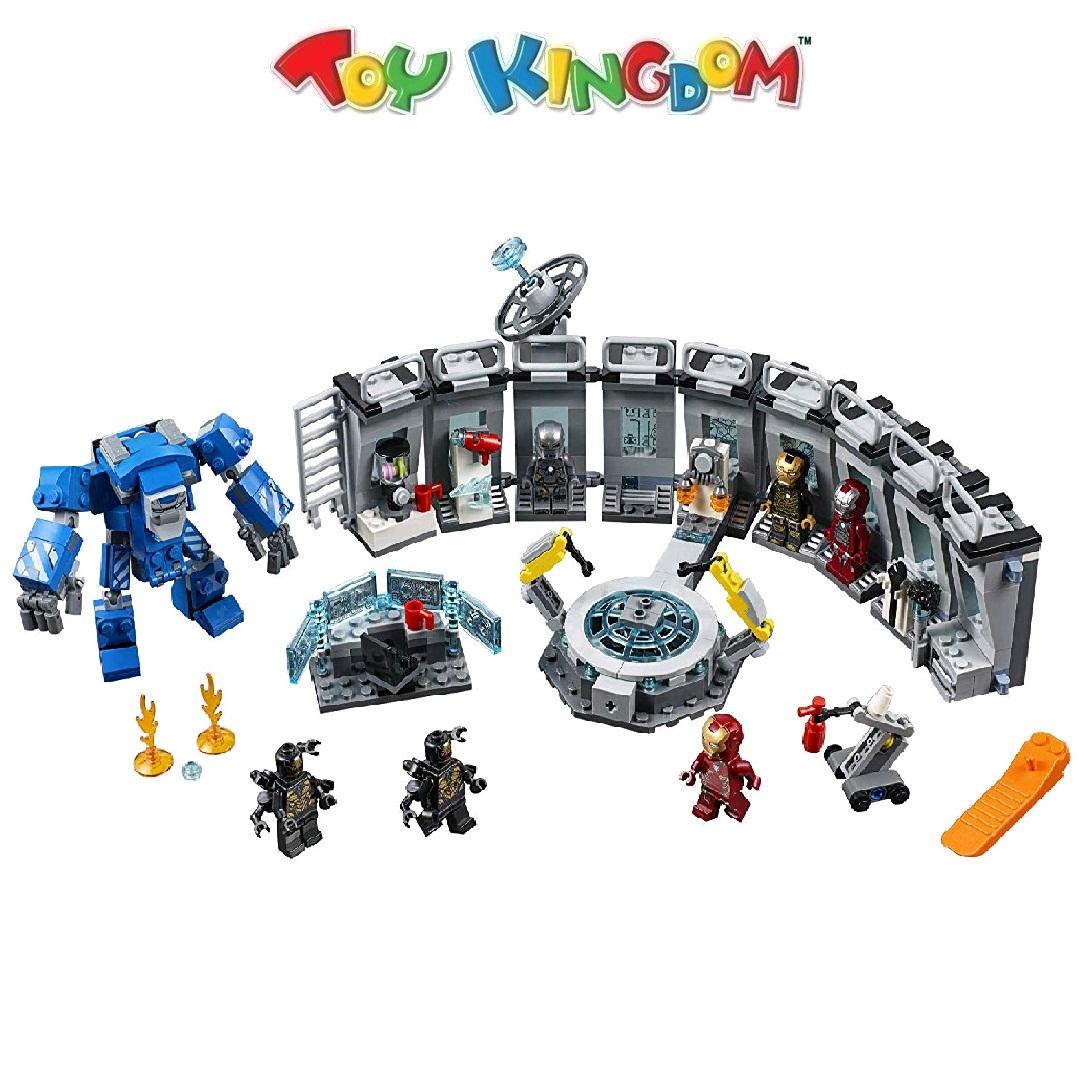 Related Products
From this collection
Loading

Product successfully added to your shopping cart

translation missing: en.products.wishlist.added_to_wishlist

There are item(s) in your cart

Loading

The cookie settings on this website are set to 'allow all cookies' to give you the very best experience. Please click Accept Cookies to continue to use the site.