Description

Recommended for ages 3 years and up
Material: Plastic
Includes doll, diaper, cup, medicine dropper, 2 packets of doll medicine, thermometer, pajamas, band-aid stickers, tissue and instructions.
Measures approximately L4 x H12inch
When you use your baby doll's thermometer, a picture will appear to show you what she needs
Once you know what's wrong with baby, choose one of the packets, add water, and squeeze to fill the dropper with doll medicine.
Give her some water from her cup. Uh-oh, baby's wet! Time for a diaper change (additional diapers sold separately)
Great addition to your Baby Alive doll collection

Baby Alive Mix My Medicine Baby Doll Toys for Girls
Baby Alive Mix My Medicine Baby is home sick in her llama pajamas today. Does she need her medicine? A tissue? A drink of water? Find out what's wrong by using her special interactive thermometer. Once you know what's wrong with baby, you can choose 1 of the 2 medicine packets to make her all better. Mix the powdered doll medicine with 3 tsp. (15 ml.) of water, then use the medicine dropper to give baby her medicine! And oh, dear… does baby have a boo-boo? Use the bandage sticker to soothe baby — and a cuddle and kiss helps, too! Kids will have fun mixing up medicine for baby, changing baby's diaper (additional diapers sold separately), and making their baby doll feel all better.
WARNING: Small parts may be generated.

•
Note: Adult should remove and discard fasteners/packaging components.

• Doll medicine not intended to be eaten.

• Included powdered doll medicine is NOT reusable and is intended for use ONLY with Baby Alive dolls that take powdered doll food.

• Baby Alive powdered doll medicine may stain some surfaces. Adult supervision recommended.

• DIAPER FILLING: ALL NEW MATERIALS: SOFTWOOD PULP.

• SURFACE CLEAN ONLY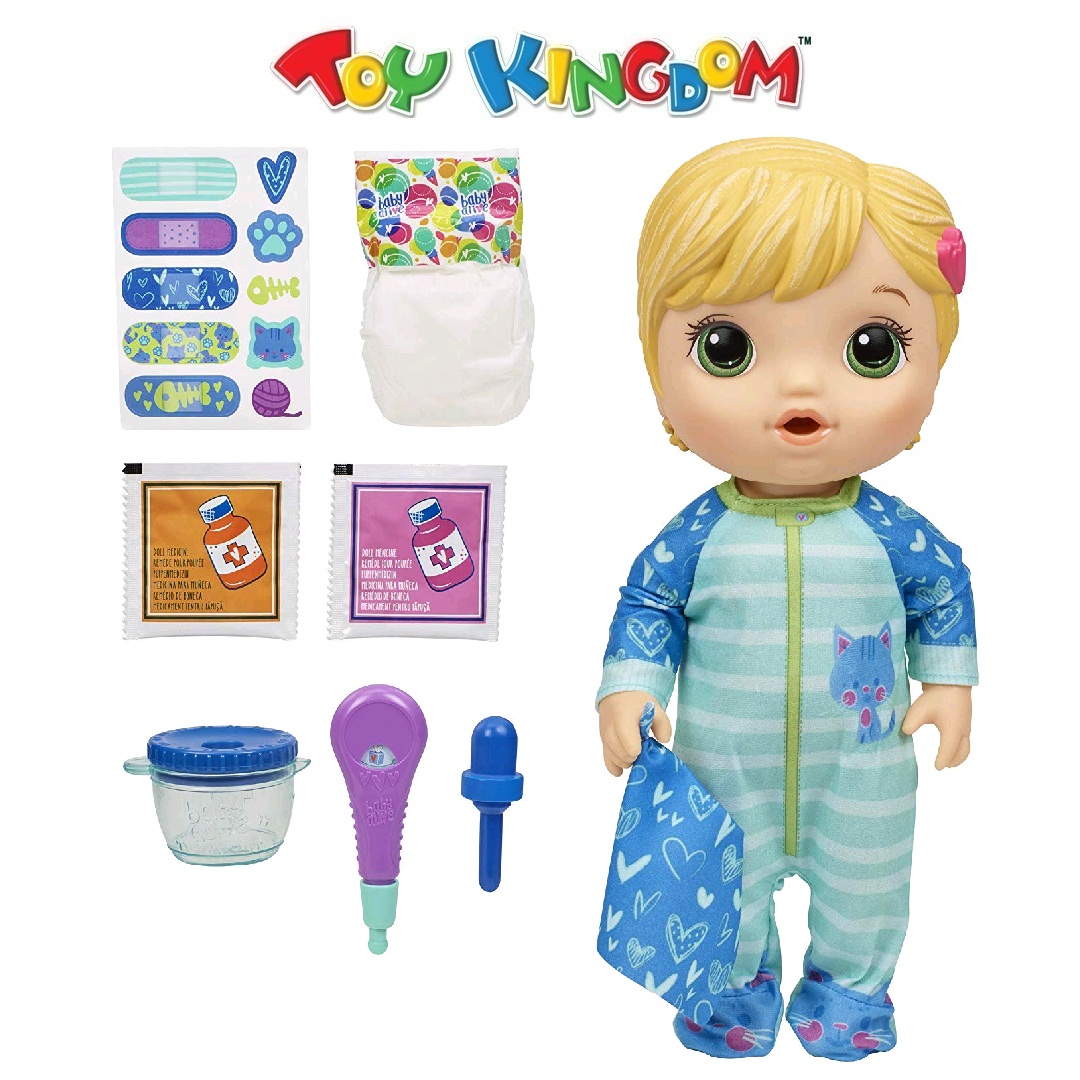 Payment & Security
Your payment information is processed securely. We do not store credit card details nor have access to your credit card information.