Nintendo Switch Unit Version 2 Gray Console with Super Smash Bros. Ultimate Bundle
Recommended for ages 7 and up
Play your way with the Nintendo Switch gaming system. Whether you're at home or on the go, solo or with friends, the Nintendo Switch system is designed to fit your life. Dock your Nintendo Switch to enjoy HD gaming on your TV. Heading out. Just undock your console and keep playing in handheld mode
Parents can set controls on the system, or use the free Nintendo Switch Parental Controls app to set restrictions on games and purchases, monitor gaming time, and more
This model includes battery life of approximately 4.5 to 9 hours. The battery life will depend on the games you play. For instance, the battery will last approximately 5.5 hours for The Legend of Zelda: Breath of the Wild (games sold separately)
Contents: Nintendo Switch Console, Joy-Con (L) Gray, Joy-Con (R) Gray, Joy-Con Straps, High Speed HDMI cable, Dock, Joy-Con grip, AC adapter.
The bundle comes with the NS Super Smash Bros. Ultimate game
32GB total system storage
Nintendo Switch Unit Version 2 Gray Console with Super Smash Bros. Ultimate Bundle
Play your way with the Nintendo Switch gaming system. Whether you're at home or on the go, solo or with friends, the Nintendo Switch system is designed to fit your life. Dock your Nintendo Switch to enjoy HD gaming on your TV. Heading out. Just undock your console and keep playing in handheld mode. Parents can set controls on the system, or use the free Nintendo Switch Parental Controls app to set restrictions on games and purchases, monitor gaming time, and more.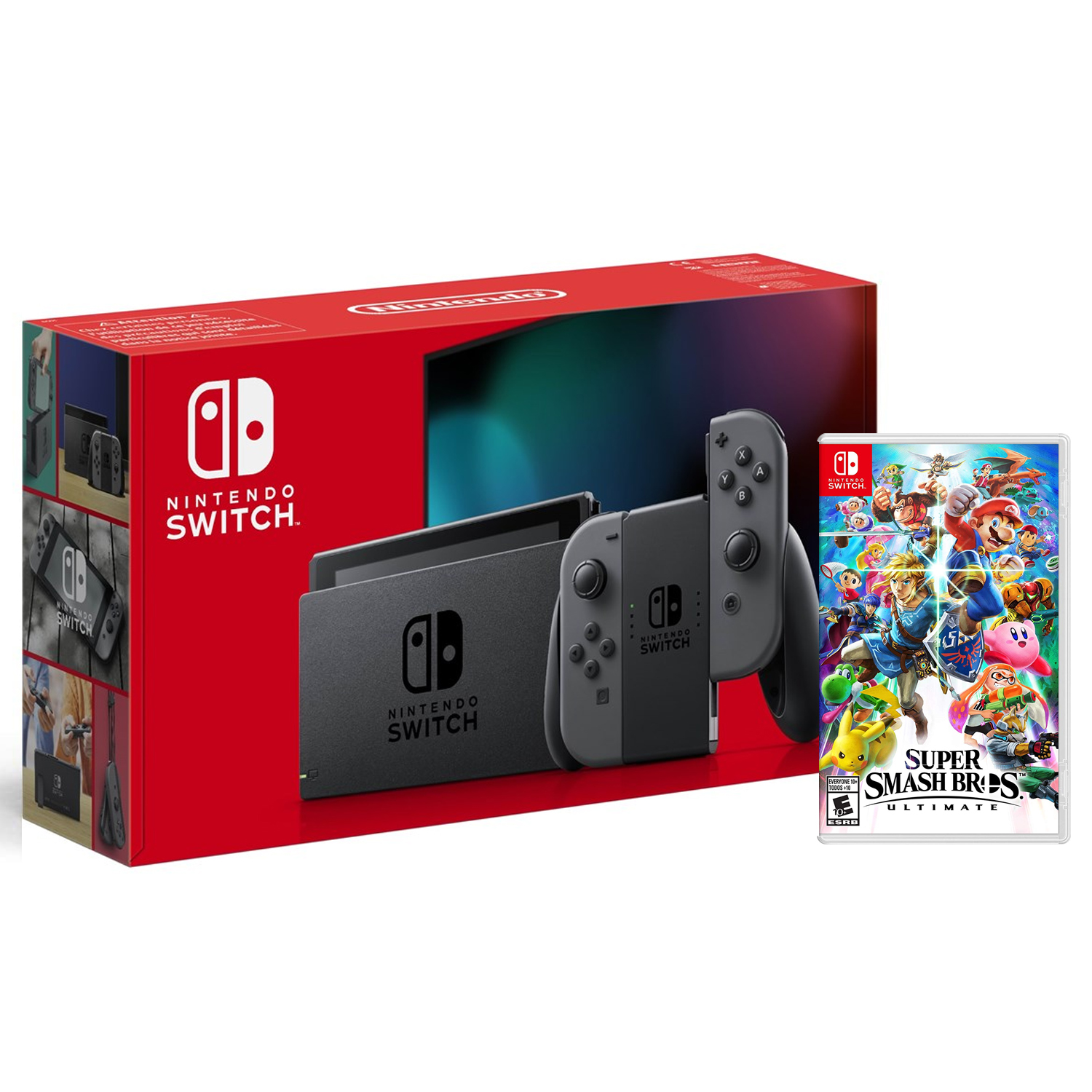 Related Products
From this collection
NS NBA 2K21

Embark on your journey through a new cinematic...

Loading

Product successfully added to your shopping cart

translation missing: en.products.wishlist.added_to_wishlist

There are item(s) in your cart

Loading

The cookie settings on this website are set to 'allow all cookies' to give you the very best experience. Please click Accept Cookies to continue to use the site.