Make it Real Sweet 'N Chic Headbands Arts and Crafts Kit for Kids
Brand: Make it Real
Recommended for ages 8 years and up
Material: Plastic
Add some serious personality to any hairstyle with these five trendy headbands that are ultra-simple to make
5 headbands
Over 110 stylish beads
3 colors of yarn (30 m)
Pom pom maker
12 paper flowers
Wide satin ribbon
Silver ribbon
Gem stickers
Tulle fabric
Piece of white felt
Polyester filling
Metallic finish thread
Sewing needle and thread
Craft wire
Instructions
Dream Guide magazine
Add some serious personality to any hairstyle with these five trendy headbands that are ultra-simple to make.

SWEET N' CHIC HEADBANDS: This DIY tween hair flair kit guides young girls to create their own fashionable headbands using bows, ribbons, stickers, gems, craft wire and more!

HELPS KIDS DEVELOP REAL WORLD SKILLS: The Sweet n' Chic Headbands set helps young girls develop fine-motor, self-actualization, and general motor skills - all while having fun and expressing themselves!

EVERYTHING INCLUDED: This kit has everything your child needs to create amazing and one of a kind hair accessories! Includes headbands, beads, yarn, paper flowers, satin ribbon, craft wire, sewing materials and much more

GREAT GIFT IDEA: Make It Real's developmental toys make great gifts for girls and tweens, helping them to develop skills that will allow them to succeed as the future leaders and makers of tomorrow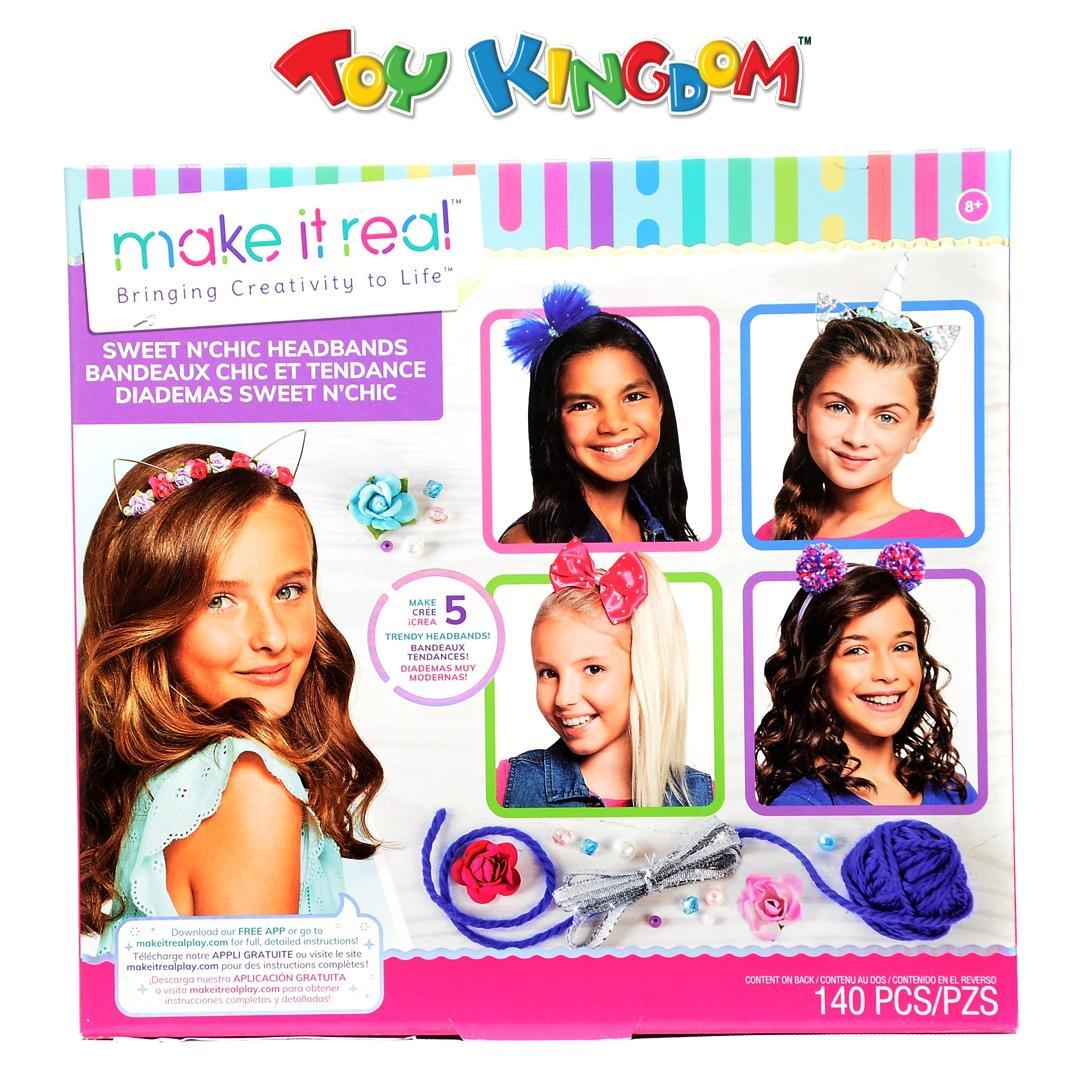 Related Products
From this collection
Loading

Product successfully added to your shopping cart

translation missing: en.products.wishlist.added_to_wishlist

There are item(s) in your cart

Loading

The cookie settings on this website are set to 'allow all cookies' to give you the very best experience. Please click Accept Cookies to continue to use the site.